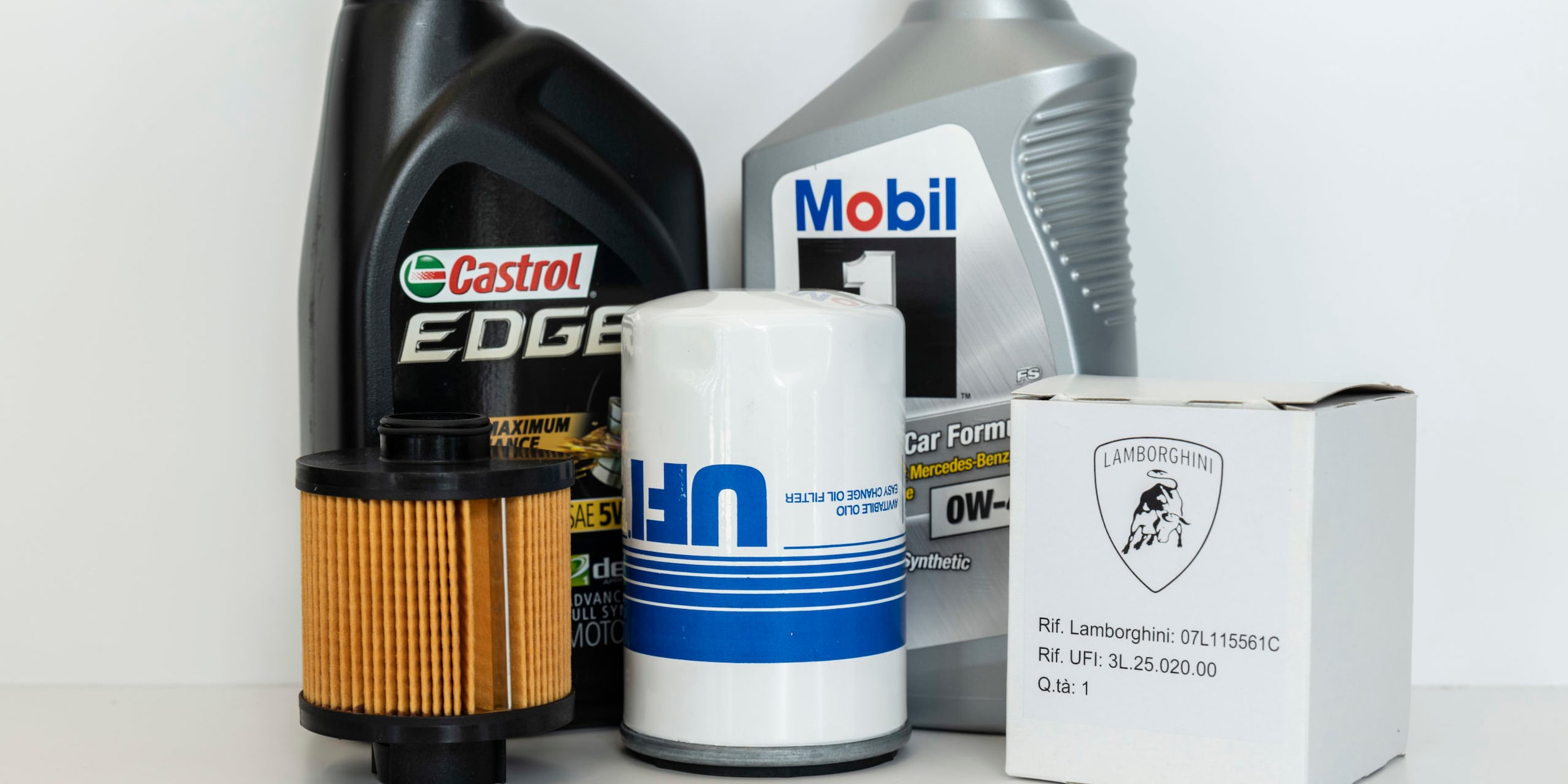 DOES YOUR LAMBORGHINI NEED AN OIL FILTER?
Having your oil filter routinely changed is important for any vehicle. But it's absolutely vital for a high-end, exotic car like a Lamborghini. After making a major investment like this, you want to give your car the best possible care and keep it running at peak performance. 
So, why is replacing your oil filter so important? There are three main reasons. 
First, it ensures your engine's oil stays clean. Over time, oil breaks down and turns into a sludgy substance, where the particles become corrosive to your engine. Without periodic oil filter replacement, this can quickly take a toll on your engine and decrease its lifespan. Routinely replacing the oil filter, along with oil changes, however, removes these particles. In turn, this prevents sludge from building up and keeps your Lamborghini's engine running nice and smoothly. 
Next, it plays a key role in your car's overall lubrication system. Besides enabling your engine to run as it should, this is critical for protecting many other parts in your car as well. And as everything is interconnected, it should extend the life of your Lamborghini and prevent premature wear from happening. 
Finally, it improves the overall performance of your engine. As we all know, Lamborghinis are some of the top-performing vehicles in the world. The 2020 Aventador SVJ Roadster, for instance, can go from 0 - 62 mph in just 2.9 seconds and has a top speed of 217 mph. A big part of keeping these cars functioning at their best is giving them the consistent care they need, with new oil filters being a prime example. 
Ideally, an oil filter will be replaced during each visit at a reputable mechanic or dealership or whenever you have your oil changed. Check your manufacturer's handbook for details, or contact us for more information. 
Does your Lamborghini need a new oil filter? Let the pros handle it. 
At Lamborghini of Sarasota, we'll give your car an original equipment manufacturer (OEM) oil filter to make it run at peak performance. We specialize in OEM exotic repairs and will make sure your car runs exactly as it should. We offer free drop-off pick-up for any make and model for added convenience. Contact us today to make an appointment. 
We're located at 5141 Clark Road, Sarasota, FL 34233, and you can reach our service department at 941-265-8555. 
Or, for other questions or inquiries, you can contact our sales department at 941-241-2579 or through our online contact form.
Hours
Monday

9:00AM-7:00PM

Tuesday

9:00AM-7:00PM

Wednesday

9:00AM-7:00PM

Thursday

9:00AM-7:00PM

Friday

9:00AM-7:00PM

Saturday

9:00AM-6:00PM

Sunday

Closed
Parts Request
* Indicates a required field